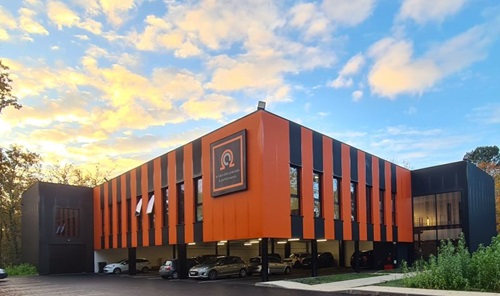 Omnitech Security is a company in the DOM Security division specialising in tailor-made security projects and solutions. Established for 7 years in Bordeaux, Omnitech has just moved to its new offices in Saint-Médard-en-Jalles, marking a new start and an investment for the future.

After establishing its network on the Bordeaux Technowest site, Omnitech has seen its workforce grow and the need for larger offices has been felt. Since October 2020, the company has moved to its new site in Saint-Médard-en-Jalles called "Campus Omega".

These new offices represent an investment of 2.5 million euros and have been designed to promote well-being at work for employees: located in the middle of nature surrounded by trees and vegetation, with pétanque and volleyball courts, modern and environmentally friendly architecture, reception room and sharing space, terrace and soon an organic vegetable garden. Alexandre Vigier, Managing Director of Omnitech Security, explains that his motto is "well-being comes before performance": it is important that employees are enthusiastic about coming to work.

50% of Omnitech Security's business is generated in sectors such as airports, leisure and events, which are currently heavily affected by the Covid-19 pandemic. However, the company is preparing for the future by continuing its R&D, hiring sales staff and investing in digital marketing. The Omega Campus project is part of this vision for the future and aims, in the long term, to improve team performance by making the office a place for exchange and emulation between colleagues.